Historic Ellicott City, Inc. is pleased to announce that our administrative office has moved to the St. John's Cemetery Lodge on St. Johns Lane in Ellicott City, Maryland.
If you have ever wondered about the little grey stone house next to the cemetery on St. John's Lane it was built between the years 1871 and 1886 and named the St. John's Cemetery Lodge. The Lodge was established through a gift from Sallie Elizabeth Dorsey and was used as a marker for the property deed conferring the old St. John's Rectory from Reuben Dorsey to the vestry of St. John's Episcopal Church. Architecturally, the Lodge is one of the most unique and charming buildings in Howard County, reminiscent of an English Cottage with its high-pitched intersecting jerkin roofs. This Lodge is composed of a north and south wing with entrances located on the east and south facades of the north wing and centered into the south wall of the south wing. Central high pitched, slate, gabled roof dormer windows are centered into the roof at each elevation of each section holding similar rectangular casement windows.
According to the Maryland Historical Trust, the By-laws in 1877 for the organization are noteworthy; providing that, "No smoking, large assemblies, unaccompanied children or noise are allowed within the grounds."
HEC is happy to be able use this wonderful building for its current office.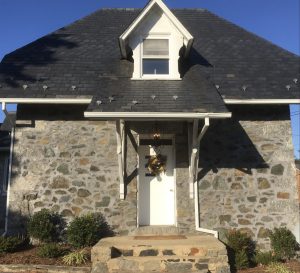 Click here to read the history of from the Maryland Historical Trust.