On Thursday, September 22nd, HEC opened this year's Show House, Avoca, with an elegant evening preview party. Guests included the owner of the home, Mr. Tom Breen and his son, Brad, as well as County Executive Allan Kittleman, Maryland State Senator Gail Bates, Maryland Delegate Bob Flanagan, the talented design team, HEC's show house committee volunteers, and many generous sponsors and guests.  Party-goers enjoyed champagne, wine, orange crush cocktails, sangria and a great array of finger foods and dinner by Absolutely Perfect Catering as well a a first peek at the amazing interior design and items for sale in the show house.
Pictured to the left are Tom and Brad Breen with County Executive Allan Kittleman cutting the ribbon as the official opening of the Show House, which will run through October 23rd.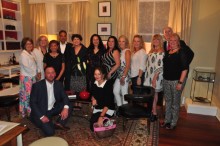 Pictured here are most of the members of the Design Team who transformed Avoca into the Show House.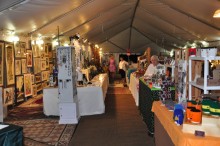 Gourmet Touches Boutique offers 9 vendors under one tent selling antiques, jewelry and more!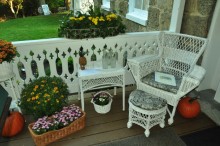 The front porch welcomes guests inside as they enter the Show House.